What our clients say about us: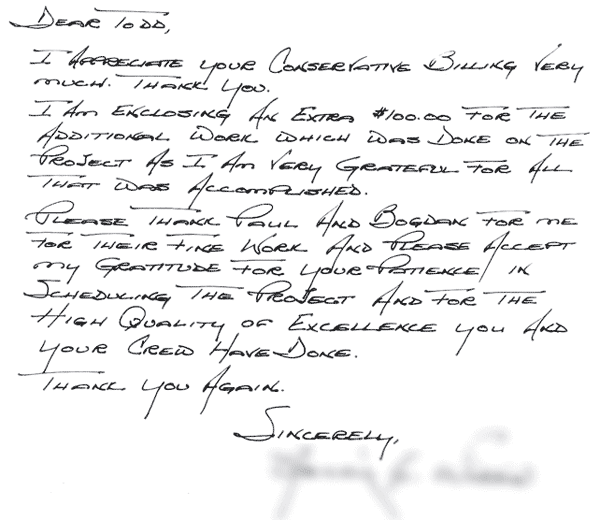 They did an excellent job! We had an emergency situation with our roof this morning so I called Todcoroofing. They not only came the same day to check the leak, but at the end of the day the problem was solved! Professional, reasonably priced. When we need to replace the roof I know who I am calling!
We have been clients of Todco Roofing, Inc. since 1998. Over the past several years, Todd has repaired our tile roof, replaced the copper gutters and replaced a flat roof on our home. He has also repaired several leaks in our roof. The work performed by Todd and his crew has always been excellent. They were considerate of our landscaping surrounding our home and never left debris on our lawn. Any concerns we had were addressed immediately. Todco is the company that we would recommend for all roofing needs.
Had repair work done on cement tile roof. Had leak which was identified and repaired. During repair, rotting wood and leaking water was found in the area of the chimney. I was immediately notified and an estimate was given to me to have the work done then since they were working on that area of the roof. Other scattered tiles on the roof that were broken were also repaired. Todd called me back the day I called for an estimate. He was professional, punctual, answered phone call, questions and concerns. He was very helpful and I will continue to work with him and his company in the upkeep of my roof.
"We have known Todd Pliuksis, of Todco Roofing, Inc. since fall of 2001. We have a Tudor Revival circa 1910, with a Ludiwici French tile roof. We contacted Mr. Pliuksis originally for a repair to one our copper valleys, new gutters and downspouts and a flat roof that was leaking. After getting estimates from other contractors, (most wouldn't even bid because they couldn't or wouldn't attempt the job) we found that Todco Roofing was the most reasonable in price and we chose Todco to do the job. We were pleasantly surprised to see the work completed in very clean, professional and timely manner. We found his men to be highly skilled and knowledgeable in all aspects of this type of roofing as well as copper fabrication. We were sold on Todco Roofing and had further tile repair work, chimney flashing, and a new attic fan completed in March of 2004. In April of 2004 our roof sustained significant damage due to a tornado. It was determined that we would need a full replacement of the main roof of our house. We needed emergency removal of the tile because of safety concerns and Todco's men were here to assist us within a few days. Todd Pliuksis made himself available to the insurance adjustor in determining our needs and cost of replacement, as well as patiently waited for us to get things worked out with the insurance company. It took us 6 months to get a new roof and Todco Roofing, Inc. took care of us throughout the duration. We are very grateful to have found someone with his integrity and genuine concern for his customers. It has been a pleasure to work with him and his men. We highly recommend Todco Roofing, Inc. for all of your roofing needs. You won't be disappointed."
First of all, let me thank you for your promptness and professional in addressing the problem on my tile roof. I have in the past had several roofing people all claiming to be TILE experts, yet the same problem kept arising. However good fortune smiled on me when I called you. In no way did you promise or misrepresent being a tile roofer, unlike the others who were at a loss when it came down to the problem. I learned some expensive lesson, above all "Buyers Beware" and wish I had known about you sooner. My recommendation to anyone with tile and slate roofer is to get referrals from them before they let them near a roof. I would and have told many about your honesty and excellence, so they won't have to learn like I did.
Thanks for a job well done. I have referred you to my neighbor on the east corner. It is a real pleasure to find an honest, competent professional.
Todco Roofing Company sent a great guy to do this work. I was very pleased with the look of the roof after he was done. They replaced a lot of the tiles on our roof and installed copper flashing around the whole roof. We have a 3500 square foot home. The new copper flashing is very beautiful and has an ornate design. Todd has been very responsive and they always return calls.
When we were trying to decide whether to go ahead with the purchase of a gorgeous home with a very old slate roof, Todco's prompt and detailed estimate on the work needed to repair or replace was essential in our decision process. The very specific information about the work already done was especially helpful. Prompt, informative, polite– these are the guys we will hire when we go ahead.
Performed tile roofing and skylight repairs. There are not many companies that perform this type of work, let alone know what they are doing! Todco roofing matched the tile on my roof perfectly and repaired the leak around my skylight. They are friendly and professional and I am so happy I can count on them. I spoke with their employees while they were working on my house and they have been doing their jobs for many years. Another company wanted to put TAR on my tiles (even I know that is wrong)! Thankfully I looked around for a professional and reputable company. I highly recommend them.
My roof was repaired and tiles were matched and replaced. When my home was struck by lightning with one of the many storms we had this summer, you can only imagine my fear. It was a Sunday morning and everyone was closed, but Todd Pliuksis, the owner of the company called me back promptly. His responsiveness and professionalism was greatly appreciated. His team showed up and assessed the damage and began work the next day. They were very prompt, easy to work with, and highly skilled. My roof was repaired and my tiles were replaced. I would highly recommend this company to my family and friends.
Todco Roofing have installed new copper inlaid gutters, outside gutters, downspouts and outlets. Installed new copper standing seam bay roof. We own an historic home and needed new copper inlaid gutters and downspouts. I did a lot of research to find a roofer qualified to handle this type of job. Todco was the most professional of anyone I called and provided good references. When they quoted the job, they sent a very knowledgeable craftsman to look at the problem. He photographed all the areas of the roof that needed work and explained all the damage. We received a detailed quote and the price remained the same through the end of the job. The work needed the approval of our village's historic committee. Todco handled all the details of this process and, in addition, worked with the village to provide all the information they needed to obtain our permit. The workers arrived every day on time and worked every day until the job was complete. They cleaned up every night before they left. The work they did was excellent. Every detail was perfect and they consulted with us whenever there was a decision to be made. The gutters, which were crafted on-site, matched the original architectural design. The materials they used were high quality. The employees are "old-world" craftsman with a great deal of experience. We needed a Village inspection when the job was complete to make sure the job was done to code but also to make sure the work matched historical requirements. We passed with no problems. I highly recommend Todco and will definitely use them should we have any future roofing issues.